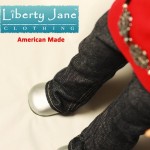 Are you interested in becoming a Liberty Jane partner?

Sewing & Selling Partners:
If you want to use our patterns as the basis of your sew-from-home business then send an email to support@libertyjaneclothing.com saying, "I want to partner", and we'll send you the General Terms and Conditions document. Read it, and agree to it, and you're good to go. We are eager to partner with you. We are not a mass manufacturer of doll clothes, so we depend on seamstresses to make these outfits available to a growing group of eager buyers. That's an opportunity for you! Our system is pretty simple – You make and sell garments using our patterns, and keep all the money, and all we ask in return is that you mention us in your listings.
Corporate Partnerships, Advertising, and Product Promotion:
Founded in 2008, we are making a name for ourselves in the doll clothes space, and beyond. With a growing and energetic following of young seamstresses, and their moms, we are developing a tight bond with a new generation of sewing enthusiasts.
If you represent an industry leading corporate brand, and want to explore partnering with Cinnamon Miles, or Liberty Jane Clothing, please send us a note to support@pixiefaire.com. We are happy to discuss opportunities for partnership, product promotion, or advertisement.
Jason & Cinnamon Miles
Liberty Jane Clothing