Outback Libby

The Liberty Jane Clothing International Collection featuring Outback Libby… Browse the Porfolio of images, listings, and video ads for this exciting collection of outfits!  Read her story in the recently published kindle book available at Amazon.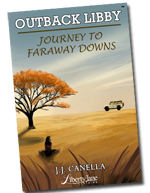 What's the book about, you might wonder… In the heart of the Outback Libby finds herself lost, alone, and in need of a friend. What she finds next surprises everyone and changes her life forever.
Below are a collection of images and video from the Outback Libby Collection. To play the video: Just drag your mouse over the image and click the play button it will play in the center of your screen. To view the images you can either click the magnifying glass icon to see it enlarged in the center of your screen or click the box icon to see a more detailed post with multiple close up pictures.